Tools of Divine Service of the High Holidays -TSHUVA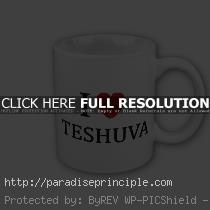 Now what I'd like to speak about has to do with the High Holidays, which are almost upon us.
I'd like to discuss a few tools of Divine Service, so here are a few introductory points:
I think it's important to know about these tools called Teshuva, Tefila and Tsedaka, Penitence, Prayer and Charity, the "big three" that are so prominent in the High Holiday prayer books. Those are the three things we are told to do in order to avert the harsh decree.
My intention is to know and to teach the pshat level, the simple, straightforward understanding, on the one hand. Much of it comes from my own background and also Rabbi Aryeh Kaplan's Handbook of Jewish Thought. And I bring to it the deeper, inner understanding of Kabbalah and Chassidut, to round out the tools.
I'll start with Teshuva, or a righteous return to G-d and to ourselves. Here are a few points explaining what the mitzvah of Teshuva is all about, beginning with a person having an assumption, an understanding that there is a divine source of morality and truth with the ability to pardon wrongs done within that morality and truth.
As opposed to other approximate levels of morality and truth, including the popular conceptions of Western society and other religious beliefs, as a believing Jewish person I have an absolute truth to rely on, G-d's word to rely on, which of course has been interpreted many ways.
But the fact that divine morality exits allows me to measure myself against that and try to return to that, pardoned from wrongs by the G-d that brought us all into existence. All of this would be lacking if there was no absolute truth, only approximate truth that changes with the times and necessities of society.
The power of Teshuva is in the fact that it was created before Creation itself, implying that it's more important than Creation in some ways, and also it has the ability to return us to the purpose of Creation. Teshuva has the ability to override the divine trait of strict justice because G-d is looking for our good and the good of the world. G-d, therefore, is very long-suffering and patient, waiting for us to re-enter the realm of morality and truth as he sets it out.
Essentially G-d turns a patient eye to our misbehaviors as we move towards Teshuva.
Teshuva has the ability to act retroactively. You might ask the question, "How can we undo the damage done by sin?" Some things cannot be undone.
For example, if a person is born of an illicit relationship, that child will be living testimony for that the rest of their life. But, the idea of Teshuva "undoes" the original intent. When we change ourselves we have a different intent, a different intention, and it relates back to our original intention, undoing it back then.
Since I'm a new me, you can't judge the new me for a wrong intention I had back then as the old me. Only G-d can see that I'm a new person of course, since humans need to judge based on what they can see with their eyes only, with some consideration given to their capacity to change.
We also have to understand that the power of Teshuva is that a person can sin and be wicked their entire life and reverse their entire history in one minute. There's a famous story of Rabbe Lazer ben, whose life was exactly that way. He did Teshuva at the very last minute of his life and became known as a Rebbe, because he did Teshuva in that way.
So that's the power of Teshuva. It will always be accepted, and you can always reverse a situation whenever it may happen.
The practice of Teshuva involves four elements, basically.
1) It involves regret, which is shame. There is a place for feeling shame. There is a power, a healing power involved when it's done in the right way.
2) The confession of what a person did has a certain power as well, the confession to G-d and the confession to people we have wronged.
3) And there is the resolve to not do the thing again. This is something we address on Yom Kippur, when we get to a place where G-d testifies, so to speak, that we won't do it again. That is the place we want to reach.
4) And finally, there's changing our ways. We put ourselves in a different environment so we won't be influenced in the same way and tempted to be caused to do whatever we did once again. We might change our lifestyle and work on things that will hopefully influence others as well, bring others to G-d. That's a big part of Teshuva.
Teshuva involves different kinds of intentions and different levels of intentions, on a scale of higher to lower. Probably the highest level of intention is Teshuva from love, meaning a person doesn't change his ways because he's afraid of punishment, of hell (which is another level of Teshuva), but because he feels bad that he didn't take advantage of his relationship with G-d. This type of Teshuva elicits results which are much higher, raising up the sins a person commits to become merits instead.
There's Teshuva that comes from the intention of having responsibility for oneself, owing up, recognizing the seriousness of going off the path, and recognizing that Teshuva is really my own chance to make a difference.
There are decreasing levels in the timing of Teshuva, meaning we might realize immediately what we did wrong and do Teshuva immediately. But some people spend their whole lives doing Teshuva; every day they think about what they did wrong and they go through those four steps, so they are constantly in Teshuva. That's probably the highest level, in terms of timing.
When Teshuva is done with the same trial and tribulation that caused a person to go off the path in the first place it's another high level of Teshuva. Also, it's better to do Teshuva when young than when old.
Another level I've already mentioned is Teshuva done from fear of future suffering, and another is Teshuva done from the unbearable reality of present suffering, especially when one is old. Perhaps the lowest level is doing Teshuva right before passing away, due to the fear of what's coming afterwards.
But all these levels of Teshuva are effective, 100% effective and acceptable.
There are many obstacles to doing Teshuva. One is when a person makes a choice to sin with this thought in mind, "I'll sin now and do Teshuva afterwards." Another is when a person separates themselves from helping out other people in the community, or disrespects people who are meant to be respected. There are also people who make fun of the commandments, and those who seek to get honor at the expense of others, gossip about them or suspect them. These are things that can keep a person from doing Teshuva, and they hold a person back.
Teshuva is something that needs to be done with an understanding that we should never give up, no matter how far they have fallen, no matter how deep the despair may be. We have to understand that we are in the place of a Baal Teshuva, a Master of Return, and even in the place a Perfect Righteous One cannot stand in such a place.
We're meant to not remind a person who has done Teshuva that he or she was once a sinner. And Teshuva is something the entire Redemption will be dependent upon. That's why all the prophets address themselves to having the nation come back to Teshuva.
So, that's all pretty much the straightforward level of what Teshuva is all about.
In terms of a deeper level, Teshuva is a return to oneself. It's a return to the essence of who you are. And it begins when a person realizes his life is somehow meaningless, or futile or just some form of personal exile. No matter how outwardly successful a person may seem to be, it's all sort of a self-betrayal.
When you understand that you are living a contradiction and you see the absurdity of your world (a lot of great comedians make fun of us doing exactly that, and that's why people love their jokes so much) you begin to realize that self-contradiction is wide-spread.
So when the Master of Return, the Baal Teshuva recognizes that and does something about it, they begin to reconnect to who they are and who they want to be. And their return is the return of a true master, a master of response, a Baal Teshuva, that's the name given to them. And that type of person achieves unity of character, including their mind and their emotions and their actions unified with their eternal self, their G-dly self on the inside. That's how they regain their self-integrity in the most beautiful and in the highest possible way.
In this way they open themselves up to what is probably the highest level of happiness that a human being can feel. And it's why the happiest times of the year happen after Teshuva time, after the 10 days of Teshuva and then Yom Kippur, followed by Succot, the happiest time. It's because you can regain your self-integrity, and regain yourself in the process.
We need tools to be able to get to that place, to figure out who you are, where you've been, what's important to you, what you look like in the eyes of truth, the eyes of your future life and the eyes of your soul family, even your own eyes looking down and really seeing yourself. This is how we gain the perspective of authenticity, and focus on a higher level and what that level can be as you look at the essence of your life and turn it into something much, much higher, more YOU, more essential and more G-dly than ever before.
One comment