The Arizal on The Root Souls of Our Leaders: Yaakov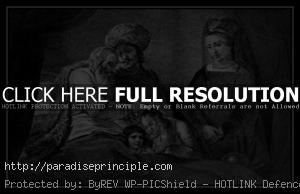 I'm going to continue my series on the Kabbalistic root souls of the Patriarchs, from the work of the Arizal. And today I'm going to continue with Jacob, Yaakov, or as he's also known, Israel or Yisrael.
Here are a few aspects of him, which I think are very important, transformative, transcendent and even mind-blowing aspects of our father, Jacob.
I should mention his wives as well… He had four wives altogether, but his two main wives were Leah and Rachel. Before Jacob ever got married at the age of 84 years, and before he even began looking for a wife, he fell in love. Meaning, he hadn't even seen Rachel and he was in love with her.
At the end of the courting period, which was more than courting really, it was courting and birthing outside the land of Israel where he was living in the home of his father-in-law, Lavan, he also developed a serious connection with his other wife, Leah. She was Rachel's sister.
It's as though Jacob when he was still Jacob, he was on the level of soul-mating Rachel, his bashert.
When Jacob grew into an expanded state and renamed Israel, that's when he was matched-up with Leah, and he was on her level.
This mirrors who Rachel and Leah are. The way we would say it today, Rachel was the very modest woman, religious from birth, and Leah was a master of teshuva, as she had the personality of someone who was out of it, then came into the fold later.  This reflects who Jacob was when he became Israel.
Even though Jacob had two names, unlike his grandfather, Abraham, who used to be Avram (and his wife Sarah, who used to be Sarai) Jacob went back and forth, sometimes using his old name. Abraham and Sarah never did that.
The Israelite people are called Israel when we are on a higher level, too. Like Jacob, we have our struggles with G-d, and we have a constant dialog, or a narrative with him, as did Jacob.
Jacob started out his life detached from worldliness, and that's when he was known as Jacob the Tam, meaning Jacob, the holy-naivete person, whose actions bespeak simplicity, not ignorance of holiness.
As Jacob encountered the world, for his own sake and for our sake, he opens doors for all his progeny, until the end of time, and especially toward the messianic times. That's when he becomes the Jacob who is able to leave his 20 years with his deceptive father-in-law, Lavan, and come into the world shining, to face the deception of the world and come out whole.
Jacob is the choice one of the three patriarchs, Avraham, Yitzchak and Yisrael. His grandfather Avraham, fathered Ishmael, which represents the fall-out aspect of negativity that was removed from him, so that he could uphold and represent Chesed.  Abraham is the merkavah of Chesed for the world.  And the fall-out, the negativity that was removed from him before he could pass on his legacy was his son, Ishmael.
The fall-out from Issac, the middle Patriarch is Esau, or Esav. And these are known not only as individual sons, but entire nations that will continue until the end of time.
Jacob had no fall-out, and he was called Shalem; he was called whole, and it was said of him that, "his bed was complete," and all of his children were all righteous. There was no fall-out, and that's one of the distinctions between Jacob and the previous Patriarchs.
Jacob went from his home at his parents' bidding, in order to start his family. He returned to Lavan's country. But before doing that, he spent fourteen years in the home of Shem and Eiver, the two major scholars of the day. This period was a preparation for Jacob to be able to graduate into a much higher level, and to cope with the world of deception, because he was so entrenched in Torah.  Jacob didn't even sleep for those fourteen years, and he came to make a family for himself.
Jacob had the trait of holiness, which could be translated as the ability to connect to the world from a mundane place, and to find holiness there, in the mundane aspects of the world
As a reflection of that, the Divine Providence that is drawn down by seeing G-d in all aspects of the world, G-d gives an inheritance to those people following in Jacob's footsteps. That inheritance is boundless; it is endless for those who are making G-d boundless and endless in our world.
This entry was posted by yitzchak on May 23, 2016 at 11:32 PM, and is filed under Meditations, The Arizal. Follow any responses to this post through RSS 2.0. Both comments and pings are currently closed.
Comments are closed.