Coping Tools of The Patriarchs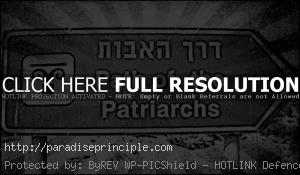 I'm giving over a list of the coping tools…. Coping with difficulty, exile, confusion, darkness, mundaneness in life… These are tools that our Patriarchs and Matriarchs gave to us. I think it's exactly the right time to do this now, before we finish off the first of the five books of Moses which is all about the Patriarchs, and get into the second book which is all about exile.
We need to learn coping tools from the Patriarchs to cope with the long, dark night of our own exile, which we have been experiencing for 'way too long now.
Without going into the sources, to save time right now, I'm just going to get straight into our forefathers' coping tools:
First of all, go inside yourself before you give over to other people. Find out the essence of who YOU are.
Detach from all the definitions of who you were beforehand when you were setting out on a new mission in life.
Let go and Let G-d. He will take you there. You don't have to worry about a thing. Watch how G-d is guiding your every step of the way.
Be a person who is looking out for his own posterity, who is taking the trouble now to help his posterity now and in the future as well.
If necessary, be a person who opposes everybody in the world. You stand on one side and everybody else stands on the other side, for the sake of doing the right thing.
Be a radical monotheist. Understand that there are no secondhand powers in life, that it's just G-d. Try to life that reality as much as possible.
Live everyday as though everything coming to you now will never be lost, and it's all extremely important, down to the last drop.
We have trials in life which are either testing or connection to G-d, or they are testing our natural inclinations to see how strongly we are grounded in it. So, hang in there.
There is a mirror effect in life, and to the extent we live extraordinary lives G-d will guide us in extraordinary ways.
Take counsel with G-d. When you're in doubt, ask, "What does G-d have to say about this?"
We have connections with all of our children, but we need to recognize when one particular child is more connected, and we should not show favoritism, but we should pay attention to how we can take advantage of having this child perpetuate the ability to live in an above-nature way.
Be a person who is here to fix-up the world, and more specifically the fallout effects of Adam and Eve.
Understand the incredible wellsprings are at our fingertips at all times. We just need to dig to uncover them.
Holiness occurs when we go into the mundane and we find G-dliness, we reveal G-dliness where G-dliness is normally not found.
We need to get to the level of habitual living, to the point where our feet take us where we need to go in life, without even having to think about it.
We need to know how to cope with the particular exile we're found in, and know it's there for a reason, and study it and know how to respond to it.
When we have something that is extremely important we need to be able to share it, to help others who need it as well.
We need to separate ourselves out from the darker parts of ourselves, to reveal them, put them in their proper place and to be able to live a life without being enslaved to those darker parts.
To the extent that we are in connection, to that extent we are free from all negativity.
The future is right now, not only in the future, but it's right now. When we live in future consciousness, we're living in higher, expanded consciousness.
We need to know that sometimes we are higher and sometimes we are lower consciousness. We have to develop the tools and the wisdom to know how to live in both in a healthy way.
We may be a firey personality, but we have to hook-up with a child or a student or somebody else who can take our firey personality into a full-blown flame and blow away the opposition,
I need to know I'm a person with the ability to draw down endless abundance, depending upon whether I have a good eye, whether I'm unselfish, whether I see the abundance is coming from G-d, whether I trust it and don't chase after lower things to get it. When I do those things I bring down abundance for myself and for other people.
I need to live with humility, with prayer and with gratitude for everything and everybody who has helped me.
I need to know that wherever I am, in whatever situation G-d is there with me, he'll be there with me and he'll bring me out of the situation, too.
We need to know how to transcend death. The forefathers teach us it's possible, and it's the lesson we need to learn in life.
We need to receive and give blessings that are so powerful and so appropriate to the people who receive them that the blessings will last a lifetime.
That which is the most important coping mechanism of very, very different types of people, and is the unified factor, is to know that G-d is with us all.
Even though we fall into the lowest of places from there we fall into the highest of places.
And that's it from the Patriarchs.
This entry was posted by yitzchak on January 8, 2017 at 4:44 PM, and is filed under Kabbalistic Healing Tools. Follow any responses to this post through RSS 2.0. Both comments and pings are currently closed.
Comments are closed.