Parsha Mishpatim – Transcending Mind Noise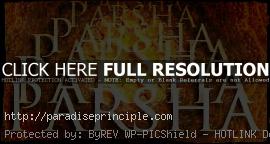 This week is Parsha Mishpatim, and I discovered a common thread running through everything I gathered for it. It is a common thread regarding transcending mind noise, or in a positive expression, it's mindfulness. It's about transcending mind noise, and I'll show how events in this Parsha fit into that category.
First of all, Parsha Mishpatim talks very directly about staying away from shekker, which means deceit or lies. Our Sages come up with all kinds of recipes and definitions of what that means in our lives, part of which are transcending the mind noise created by the actions and lies of others people toward us.
Another aspect this Parsha talks about is to not take bribes. Bribes create a mind noise which makes a person fail to see objectively any more, even a righteous person. We have to stay away from that mind noise, the Parsha tells us.
We have to stay away from the noise of doubt. When the people said, "We will do and we will hear," they kicked doubt out of their mindset. That's the most profound mind noise-ridding we have in the Parsha, because that got them back to the level of the Garden of Eden when they said, essentially, "Sight unseen, G-d, we're jumping in and doing whatever you say!"
At that, the Israelites were blessed with zero mind noise, unlike all of us living in these not-yet-Garden of Eden times who are struggling constantly, in every situation. Staying away from doubt is probably the biggest mind noise trap of all.
But, there's more… There's the mind noise we spoke about in the previous Parasha which is a preemptive strike. It has to do with one person coming into another person's house in order to steal from them. They are coming into that house with the assumption they may be killed, so they will probably be locked and loaded, and ready to shoot first.
We have to be able to pre-empt that thing when they come in, and to shoot first in that situation. And that's a way of dealing with the evil inclination as well. When we deal with the Evil Inclination as our own inner struggle by pre-empting the battle, we win. When we don't, we don't. That's a huge transcendence of the mind noise happening to us as well.
In Parsha Mishpatim it talks about the righteous convert. So, another type of mind noise transcendence is compassion. It is to look at a person, as the Torah tells us to do, and to have compassion on that person, who may be a stranger, or a convert. Many people fall into the trap of cruelty as opposed to compassion.
We have the mind noise of people in our lives whom we hate. The Torah tells us, "You've got the mind noise of hate in your mind?  Help the hated one. If you see a person who is bent down with some kind of burden, drop what you're doing and go help him. That will help you get rid of you get rid of your mind noise as you help him. It gets rid of the horrible mind noise called hating.
Another mind noise is taking pleasure in G-d. There are passages that say G-d is going to help us get rid of our sickness, and so forth, because we will get to a place where we are taking pleasure in what's happening in the world and what's happening in our lives. That's a mind noise inside ourselves. And we need to take pleasure in G-d and the role he's playing in our lives instead. That's a pleasure that is sort of the opposite of worldly pleasures.
Moses going up the mountain for 40 days is one of the scriptures here. It represents freedom from mind noise in the form of detachment. He was detached enough to not eat or drink or probably even sleep for 40 days up on the mountain. He was a human being, but he had such a high level of detachment that all the mind noise of, "I need this, I need that…" was removed from who he was.
Perhaps I'll find other examples of mind noise cancellation, maybe in this Parsha and maybe in my life. But it opens up a very big topic, the idea of the mindfulness of getting rid of mind noise.
This entry was posted by yitzchak on February 19, 2017 at 9:13 PM, and is filed under Weekly Parsha. Follow any responses to this post through RSS 2.0. Both comments and pings are currently closed.
Comments are closed.