Weekly MMM – The What and Why of an MMM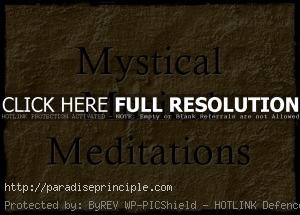 Keeping in line with the series I started before the High Holy Days, this week I'd like to talk about MMM itself, what it is and why I do it.
I want to explore it, this consciousness I call MMM, which stands for Mystical Musical Meditations. This, I think, is a new artform, genre, type of teaching and experiential meditation. It's a type of full self-expression that naturally evolved in my own life, through various presentations with individuals and with groups internationally.
It's basically an expression of Allness. I sit there with a guitar and play, using up to 15 poems per week as a springboard to get across my weekly theme. It's using everything that I know. It's channeling a higher consciousness and allowing G-d to come through.
The MMM is based on mystical, Kabbalistic Jewish teachings, following a consistent theme and usually connected to the weekly Torah portion. But instead of an intellectual approach, it provides an experiential approach to learning. My MMM is my experience of these topics.
To present my unique "take" on a topic, I get myself into a sacred space and I recite poetry to give voice to the topic. I use music because music automatically elevates words. Words, poems, prose, teachings are elevated to a level that the soul can internalize and download more easily. Sometimes I speak in a spontaneous way, like hip hop or rap, and that's how I'm able to get across a more authentic message.
The thoughts in my mind, my heart and my soul can be received in a fun, effortless way. I am also as much a part of the audience as everyone else present.
If G-d allows me to be a conduit for it, I want these expressions to be Messianic in consciousness, something expressing the energy of King David in those times when his harp would wake him up at midnight, the nights when he created the Psalms. They were composed with Ruach Ha Kodesh, The Holy Spirit. I want to partake of that same King David energy, too.
And I want to partake of a wider intelligence than most of us normally use to express ourselves. We are only using a small percentage of our emotional, creative and intellectual intelligence.
I want the mitzvoth and the Torah teachings to be about consciousness, not just something we understand with the left brain, but something we feel with the heart, and embrace with our right brain and our whole body and soul.
What jazz does to music I want MMM to do to Torah. Jazz takes a message and expresses it in free form, spontaneous art. Whatever comes out just comes out in different rhythms and dialogue.
I want each MMM to awaken exactly what each person listening needs to hear. This can only happen if I go deep into myself and partake within myself whatever a person needs to hear.
I want the music to turn into poetry and the poetry into music, where the words are stripped away into pure energy, on a level where both the higher and the lower self are touched. The fun-loving side of me, the Dennis the Menace within me, and all my memories… I want the MMM to purge whatever is going on in my life at the time.
But I want it to be a selfless giving as well, in a way that can really change people. I want each MMM to be part of the ultimate expression of who I am, giving voice to the greater part of each of us that needs to be expressed. It's the essential part of ourselves, all of us.
G-d willing, I'm hoping to raise crops of other MMM people who share their own wisdom in their own groups, wherever they are located.
I'd like to make some MMM musical albums, outside of the traditional music industry, that represent the convergence of everything I do with other people, with myself and with G-d. I want to change consciousness with the whole project.
Comments are closed.