Weekly MMM – Let Go, Let G-d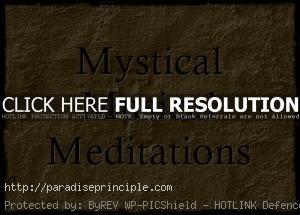 Where I'm going with this week's MMM may sound familiar… It's Let Go and Let G-d. It sounds a bit cliché, but it's where my heart is, and means so much, in so many ways.
The timing of it in this weeks' Parsha, Vaera, is significant because G-d is showing his stuff in a simple and miraculous way, letting them know that G-d's the one running the show, basically. That's what the 10 Plagues are all about, so that everyone should know it's from G-d.
And, in addition, that everyone should know it so deeply that even when G-d doesn't come out from "behind the curtain," like the Wizard of Oz did at the end of the movie, and he stays hidden behind the workings of the natural world, even that's miraculous. Even then, we have to know that G-d is "pulling the levers," and running the show.
Based on this revelation, we have to understand that we always have an option. Whether It's making a living, navigating a relationship, maintaining our sanity (increasingly a problem), or feeling good about ourselves in any area of life, it's very important to know we always have the option of letting go and letting G-d take over.
You don't have to be the boss, operating the control panel of your life, at all times. To the extent that you trust enough to Let Go and Let G-d, to that same extent G-d agrees to step in and take care of things. To the extent that you don't Let Go and Let G-d, it's as though G-d is saying, "You got it? OK, just call me if you need me. I'll let you take care of it."
It's almost as simple as that. We all have it, all of us. We have the option of letting go and letting G-d take the helm. To the extent that we're real with this option, and not just paying lip service to the idea to impress yourself or others that you're a believer and filled with trust, if you really do let G-d in you will find G-d will really come in. It's a matter of degree.
This idea is taken from sources, and it provides a background for this Parsha, and for the reasoning behind Let Go and Let God. Hints and tools to accomplish this are widely available, even in this Parsha where Moses has an amazing interchange with G-d about whether he's the one who should be going into Egypt to save the Jewish people.
Moses asked, essentially, "It's not enough for me to say G-d sent me. I need to know which aspect of G-d, which characteristic sent me in to say Let My People Go?" And of course G-d said, "Tell him Ayeh Asher Ayeh, I will be who I will be. " That's a very deep statement, and it tells us we simply don't know when, where, how or what. We just have to let it all go. We have to trust G-d.
"I will be who I will be," is what our trust and our patience are all about. It's about knowing there really is a light at the end of the tunnel, and it's going to get us through. G-d is saying, "You gotta trust me on this one… I'm not going to show you according to what you are ready for in these open miracles, but I want to elicit your trust, and then the miracles will kick in.
We must have trust and patience in the "I will be who I will be" aspect of G-d.
And we have to understand that, to the extent you let G-d in, G-d will come in. That's what the Shekinah is all about. The Shekinah is the Feminine Principle of G-d, the felt presence of G-d in the world. To the extent that we let G-d in, to that extent will we experience the presence of G-d. So, part of letting go and letting G-d is just to let him into the places where G-d is normally not found.
That's what increases the presence of G-d in our lives. Some people make it their entire life goal to connect to G-d. Devekut is probably the most important principle we learn from Mystical Judaism, especially Chassidut. We learn to bring G-d into everything and cling to G-d at all times, in all aspects of our lives.
When we Let Go and Let G-d, we'll have a lot of more of G-d than we otherwise would have. Our Patriarchs and Matriarchs taught us this. They let G-d into every aspect of their lives, and they only succeeded when they let G-d into their situation.
When we look at the people who did the greatest miracles, took the greatest strides in Biblical history, it was the people who let G-d into their lives. When Pharaoh was just about to promote Joseph to second in command of the most powerful nation of Eqypt, as a result of Joseph's dream interpretation, Pharaoh asked Joseph how he knew how to interpret dreams.
So, Joseph could have responded that he had a PhD in dream interpretation from the Harvard University of the day, or that he'd been working on it for many years, honing his skills. But he didn't go in that direction. Instead, he said, basically, "I don't know a thing. G-d did it all for me."
Joseph Let Go and Let G-d. And he started to have incredible influence because he was able to do that.
That's where the miracles come into our lives, when we actually realize and to the extent we realize that G-d's running the show, in our lives, and we let him in by seeing that and responding to that in a personalized way.
We let G-d in by understanding that we, as humans, are limited. We cannot so everything. There are impossible situations for us, but not for G-d. "I can't do it, G-d, but you can do it for me."
In a nutshell, that's my exploration for the week. And I'll probably only make it through the week by letting go and letting G-d into my life.
This entry was posted by yitzchak on January 8, 2018 at 3:22 PM, and is filed under Weekly Parsha. Follow any responses to this post through RSS 2.0. Both comments and pings are currently closed.
Comments are closed.