Weekly MMM – Get Yourself Free on Pesach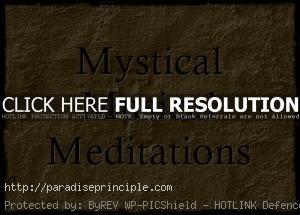 This week's MMM is about Pesach, and I'm calling it Get Yourself Free. It's about making the most of the holiday. I'll start with some of the basics, what happened at the time of the first Pesach, the practices of Seder night, and then move into the mindset about how to achieve freedom.
From the perspective of Kabbalah, Pesach is based on a 130-year time period when Adam, separated from his wife, spilled seed. Adam was the composite of all humanity, and the seed was incarnated into complete generations, and ultimately made it into the generation of the slaves, Bnei Israel. They went into Egypt and were enslaved for 210 years, which served to rectify the seed spilled by Adam, with a lot of purging and suffering involved.
Their story reveals a slave mentality for 209 years, and people sunk into a lot of tumah, the 49 gates of evil. Then, G-d planted in them a desire to get out of their situation, because people in such a dark place usually don't know there's a way out.
Their desire for freedom expressed itself with primal screams, and non-verbal articulations asking for help. G-d told Moses, "I heard their screams," although he had instigated their circumstances, he also heard their cries. Then G-d told Moses to speak to Pharoah and say, "Let my people go."
Moses deliberated long and hard about whether he was worthy to be the messenger, but in the end, he did it. And what followed was about a year's worth of open miracles, which the world has not seen since then, and probably won't see until the Messianic times. It will be sort of an emulation of the coming-out-of-Egypt process once again.
The Pesach miracles were all about revealing G-d's presence in the world, and in a people who really didn't understand G-d's presence for what it is, who weren't deserving of it or ready for it. But G-d wanted it to happen at this particular time, because it was rock-bottom, so to speak. And G-d has a timetable for bringing in salvation.
The seed of a plant, decomposing in the ground, must deteriorate to a certain point in order to grow, but can't go too far or it won't sprout, grow and blossom at all. So, too, with the Israelites. They had to get to a certain point of slave mentality, and then they had to be brought out in above-nature, miraculous ways.
Miracles of the 10 plagues and miracles of crossing the Red Sea are miracles "on the ground," but there were also miracles of the spirit. Those spiritual miracles involved people raised up into expanded levels of consciousness, having and extraordinary, inside perspective, which went far beyond all their preparations. They received pure gifts from above.
In a nutshell, that's what happened. The Israelites got themselves free, and they got out just in time. Not all of them got out, in fact, most of them did not get out. Some got out, and that became the Bible story.  We know from the study of Kabbalah that the Bible stories are just the bare bones of what happened, a remnant of the real lesson we're supposed to apply to our lives.
On Seder night, we get together and talk about the historical story of what happened on the first Pesach, but also to get a sense of our own journey coming out of slavery into freedom, on our own lives.
We go through it, and we set our table with signs of both freedom and slavery, matzah and maror, the yetzir ha tov and the yetzir ha ra, expanded and restricted consciousness. We retell the story, year after year, and we speak our way into consciousness.
Our Sages say that the more one talks about it, the more praise-worthy it is. The very words we say are down-loading belief in G-d into our souls, especially on Seder night, but also at all times. It's a very special, very elevated night. And the discussion around the Seder table is not just for the highest intellects, it's for everyone in the family.
It's a family affair, and the family has to go through the normal channels of father to son, mother to daughter, etc. The home is one of the most sanctified places for the Jewish people, and the Seder is one of the most sanctified ceremonies we have in our home. It's not done in the synagogue, and it wasn't done in the Holy Temple, although people came there for the days of Pesach, but the Seder is conducted at home.
Home is where the heart is, where the faith is, and it's where G-d is, so that's the foundation. That's where we drink the cups of wine and eat the matzah of freedom, and we tell the story of freedom. Basically, we are downloading freedom into our souls. Pesach is the holiday of freedom.  That's the essence of the holiday – to get ourselves free.
According to Jewish teachings, Pesach is not the only time we are to speak about freedom. We're supposed to do it twice a day, every day, with special mentions on other holidays and on Shabbat. This is such a basic thing a human being is supposed to do, to break free of those things that are holding us down.
That's what this world is all about. So, I put together some original tools I use to get myself free:
I give it over to G-d. Whatever I can't do for myself, I say, "G-d, please do this for me."
I choose to want what I do have, instead of what I don't have. I embrace what I do have.
I detach myself from things involving the senses, seeing, tasting, touching. I close off some of those senses to free up my spiritual senses.
I keep a conversation going with G-d at all times. Ask G-d questions and receive the answers. Ask G-d for favors and receive the favors, the gifts. Open yourself up to the gifts. Be an active, best friend kind of partner with G-d, and watch how reality develops for you.
I see Torah as G-d's word, filtered down so we can grasp it, and the more we connect with it the more we become free.
I expect to have active faith in G-d, bitachon, trust in G-d to come through for me. The more I have it, the more free I become, because I'm not afraid of the consequences. Even when it seems there's no way through, I trust G-d and expect to make my way through.
I often choose to give up the struggle, to Let Go and Let G-d. When it's all said and done, it's G-d who is getting things done, even through my decisions, choices, innovations and motivations. But G-d is the one who is planting those things inside of me. So, where I let go of the struggle and let G-d come through, that's when I become the most free that I can be.
Comments are closed.