Weekly Parsha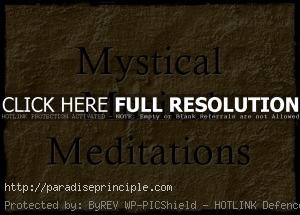 This will be the MMM for Parsha Re'eh this week, and the topic is Integrating the Lower Self, or the Lower Soul. This is a topic that really interests me, because most people are completely ignorant of it and suffer as a result of their ignorance of it. They simply don't know how to integrate their Lower Soul into their lives.
The Lower Self, Lower Soul or Animal Soul… which is not the same as the Evil Inclination, not at all… but it is part of us which often takes over to sabotage us at the wrong moment. It can impair us in a negative way, or it can empower us in a positive way.
The source of the Lower Soul in Kabbalistic works is called The Left Side of the Heart or The Animal Soul. It's associated with the original mix-up with the Tree of Good and Evil. It's associated with Esav, the twin brother of Yaakov, and the Esau/Esav energy of unharnessed chaos, in a way.
When properly processed however, this part of ourselves becomes a great point of life force and empowerment. We have to integrate it, and it's dangerous stuff because we can easily take it too far.
In a conversation with a friend of mine who is a Hollywood script writer, we discovered that he does not refrain from talking about the dark parts of himself because it gives him the creative edge needed in his business. The more he does it, the more his works become brilliant.
To bring this idea back to the Jewish sources, it's like this – King David, at the end of his life, could not physically maintain warmth. So, after searching the Land of Israel, the most beautiful girl was found, and she was hired to lie beside him to keep him warm.
The meaning of "not being warm" in King David's expression was, "libieb chalal bekirei" which translates as, "my heart is void inside of me," and means that he had no desire for lower-soul stuff any more. It means he was complete and had no need for it, so that caused the situation he experienced at the end of his life, his inability to literally and figuratively warm himself up.
The body heat and the spiritual heat that warms people up is that Lower Self, that Animal Self, that stuff that's coming from the Left Side of the Heart. King David didn't have it, toward the end of his life, and he needed help to get warm, literally.
Moses, at the age of 120, right before he died, was completely lucid. And he said, "I can no longer go in and come out anymore," which means he didn't experience ups and downs any more. That Lower Soul is responsible for knocking us down so we have to climb up and reach a higher place. Moses didn't have that responsibility any longer. He was not no longer a warrior and he didn't belong in this life anymore because he had completed the job.
So, that lower part of ourselves, that Animal Self, is actually the part that keeps the life force alive. So, what we need to do to get to that part, to connect with it, and there are several different ways to do that.  One of the ways to connect with that part is to clean it, clear it, and purge it.
We need to give it a voice. People who do Transcendental Meditation say a non-sensical mantra so that the mind will "sweat out" all of these lower soul thoughts, so that they are not just repressed there. They get processed, and that's what keeps them calm during the day.
Debbie Ford, one of the original new age writers, wrote about the dark side of ourselves in a book called The Dark Side of the Light Chasers. The wrote about what she called a "shadow world." We have many parts inside of ourselves, character traits which are not flattering and we'd never want written on our tombstone. We'd never want to become famous for them or have them written on our CD.
We may be lazy or jealous or just looking for a good time. Those are just some examples, and what we have to do is find our own character traits and bring them to the surface, so that we can make a deal with them, we can say, "ok, I'll let you be a part of my conscious world if you don't mess me around too much, and if you don't steer me wrong."
When we do that, we are able to integrate. Then we generate and ignite those parts of ourselves that, if we didn't allow them to come to the surface in a healthy, sane way, they would derail us. They would sabotage us, at all the wrong times and in all the wrong ways. So, that's another way to get to them.
Yet another way to get to them is to know how to mix them, to mix the strong parts with the weak parts, the holy parts with the not-so-holy parts.  We can learn to unify them in a way which is healthy.
One way to do that is to look into our mind, which is what the Baal Shem Tov used to do. When we're involved in a holy space, such as prayer or learning or something like them, we need to look at the thoughts coming to us. There are a lot of lower-self thoughts coming to us, saying, "raise me up!"
Some people are encouraged to go around, because it's too dangerous to deal with the thoughts. But another approach is to say, "take those things and elevate them, to put them in the service of G-d."
Instead of wanting to strong-arm people, be a warrior for G-d. It's that kind of a work that we do.
Even in time management, we can process these things. We can take the Higher Self, which is what we should do, and the Lower Self is what we would do if we could, and we blend those together. We take the woulds and the coulds and, and scoring them on a scale of 1 – 10, and then looking at the combination of them and making it our priority.
Whatever scores a 10 on the woulds and coulds in my life is the first thing I'm going to do. It's the most important thing, and the ones scoring 9 and less, are less important to me.
We can look at these lower parts of ourselves and rather than completely focusing on them, we can look at the positive side and try to bring that out to be the dominant side. We can mesh them together to achieve harmony in our lives.
We can look at the Esav side of ourselves, this animal energy we have, and if we can possibly put it into proper vessels, then we have harnessed the animal energy for holy purposes.
There's a lot more to talk about on this topic, but that's it for now.