Posts tagged
Reincarnation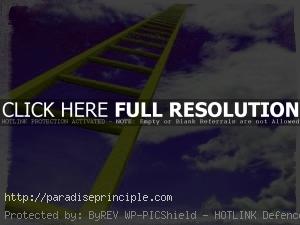 I'd like to focus on the ladder of the soul levels, and how they are experienced. We have five soul levels, Nefesh, Ruach, Neshama, Chaya and Yechida. Of those five levels, two are entrenched in our bodies, one is partially entrenched in and partially out of our bodies, and the highest two levels are completely out of our bodies.
Their location points to their character as well. The deeper entrenched they are into our bodies, the more they have an affinity for our bodies, which is actually their purpose. The lowest level of Nefesh that's entrenched in our bodies, for example, is that part of the soul which is most connected to the body. It's the spirituality of the body, of the organs and the sensations, and so forth.
The next highest level, the Ruach, is the part of the soul that's more connected to who we can grow into. It's part and parcel of who we are, but it's a step up from an animalistic level to a humanistic level. Another experiential difference between Nefesh and Ruach is this – Nefesh is like having the experience of going into a library where everybody must be very quiet so that all can concentrate. Nefesh is a quiet type of spirituality, whereas Ruach is more of a bubbly type of spirituality.
Ruach could be described as a house of Torah study, the Beit Midrash. Compared to a quiet library the Beit Midrash is not quiet at all. Quite the contrary, in fact. It's a place full of bubbly, new ideas being shared. That's the Ruach. It's a higher part of our personality which allows us to grow, and to reach out to new levels of consciousness, which we don't necessarily know about beforehand.
And the Neshama, part inside of us and part outside of us, serves as a guiding light. It has a connection to us and it bridges us to that which is beyond us. The general picture of the soul inside us is like the tip of the iceberg, only it's upside down. The rest of our soul is outside of us and reaches much higher. Only a very small part of us is inside the body, and that which is outside reaches all the way up to the heavens.
This third level of soul, the Neshama, is a bridge from the small part inside us to the vast reaches beyond the body. And our Sages tell us it's pure, unsullied and impervious to blemish of any kind. It's pure and it stays pure. As a bridge to that which is beyond us, it helps us grow.
These three levels, Nefesh, Ruach and Neshama are parts of the soul that guide us to become better people, vis a vis ourselves, even though it also involves our moral relationships with others. But it's primarily about our own personal growth at these three lowest levels of our soul.
The next level is Chaya, and it is the level of soul in which we experience "working for the cause." It's the part of us that's trying to make the world a better place, to forge a path of rectification and peace. It's where wrongs are righted, and we feel a sense of belonging in a global way on this higher level.
And finally, Yechidah is the highest level, and it is connected to G-d. A Yechidah personality is solely concerned with connecting to G-d.
These are all very important distinctions of soul levels, so I'll expound on them a bit more . They are in an absolutely ideal situation with a brand new soul coming into the world, which occurs only once within many generations. They receive their rectification in different stages of a person's life.
At the beginning we receive a Nefesh, at the age of 13 we receive a Ruach, and at the age of 20 we receive a Neshama. But that's only for an ideal, new person. Other than that rare situation, perhaps occurring once in several generations, pretty much all of us in this generation reflect different, subcategories of Nefesh, such as the Ruach of Nefesh, the Neshama of Nefesh, and so forth.
And so we graduate from one level to another, and that's how we grow. The placement of these three levels of soul inside of us starts from the bottom up. The Nefesh level is the seat, and it's located in the liver. The Ruach is in the heart and the Neshama is in the brain. Those organs are the seat of each level, but of course they spread out into the entire body.
The physical character of those three parts of the body are appropriate for these three levels of our soul.
The liver, which is primarily concerned with filtering blood, which is activity on the physical level, is the seat of Nefesh, the lowest level of soul.
The heart is concerned with pumping the blood, but it's more spiritual, and it's the seat of the Ruach.
And the brain, which is located higher in the body, is the seat of the Neshama, the highest level of soul located in the physical body.
Our individual soul is connected microcosmically to all souls, and to all live aspects of reality. So, we don't live in a vacuum, alone in our own soul. Our souls are interconnected with other souls, with other people, and with time and space. Therefore, we have a microcosmic effect on the world, and the world has its effect on us. I am using the word "microcosmic" to mean that which is outside of us is also inside of us, and vice versa.
That means one person, if he is intent enough, and living on a quality level, can fix up the world. That's the power of this microcosmic connection to the world.
Another aspect of souls involves the fact that a great majority of us is actually outside of us. In a manner of speaking, when we really plug into our souls we become something like a holy skeptic. We have a sense of knowing that there's something better than what we're being fed in this world, and that there is something much higher available.
It's like what we always say about a mitzvah. When we perform a mitzvah we understand there's no payoff in this world, because it's such a spiritual thing and it's so far beyond this world. The only payoff in this world is the ability to do another mitzvah. There is no payoff that can really satisfy the soul, because the soul is on a much higher level. On its own, it's even higher than the parallel angelic levels.
We can plug into our soul in different ways and understand it as a guiding light. We can resonate with it, and begin to understand the difference between its guidance and the body's guidance. Its guidance is described in some books as the Divine soul, the Divine Nefesh inside of us, as opposed to the animalistic soul inside of us. And when we are able to hear its voice, that's when we're able to go forward, and to go higher.
There are times we can hear our soul in unusual ways, and we can feel a kind of deep, emotional yearning, which seems to have no connection to whatever we're doing at the moment. That's our soul talking to us. We need to find a way to process it, to say some holy verses, to say a prayer or talk to G-d. Just don't ignore your soul talking to you or through you.
Different kinds of souls come into this world for different purposes. Not everybody can perform the same way in different situations. A midnight person is one who has a midnight soul, to get up at midnight and do the midnight thing. Over the years, I've seen many, many people try to do it, but they have failed because they don't have a midnight soul.
And the same thing is true of Kabbalah. A lot of people try real Kabbalah and simply fall asleep during classes, sometimes for years on end. It's because they don't have a Kabbalah type of soul.
Another thing is to be able to hear your soul, and understand what it needs to complete itself in this world. What does it need to learn, which people does it need to connect with, and which situations does it need to perfect? As we've said before, we're here on unfinished business. The soul guides us in order to teach us what that unfinished business is all about.
I think we can say that there are situations where the soul is renewed and even replaced at higher levels, in rare situations. There's a verse teaching us that when a person has come to the end of his days, and what he's come into this world to complete is finished, he can use certain verses to use in order to deposit one level of soul and acquire a higher one.
Every night when we go to sleep we renew, or "polish up" our soul. Just as we renew our physical strength by sleeping, in the same way our soul gets polished up, refreshed and renewed during sleep.