Posts tagged
Soul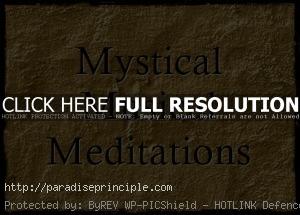 For this week's MMM I'm going to explore the soul, from the perspective of how it feels on the inside. Meaning, how we experience the soul, not intellectual definitions of the soul, not theory, but a description of the feeling level.
I'll be drawing on the work of Rabbi Avraham Issac Kook, called The Lights of Holiness. He explains there are two kinds of people who experience the soul, the normal ones and the enlightened ones. I collected these ideas from Rabbi Kook, because he was the one who knows, and also knows how to explain it to us.
The first list applies to normal people (universal) and it is my own. I am qualified to provide it.
And the second list applies to the rare enlightened ones, which comes from Rav Kook, who is qualified to provide it. Rav Kook was a unique person, one of very few who could describe what it feels like to be enlightened as a human being.
Universal Soul Experiences
a) when you do an extraordinary good deed and feel very good about it, or have overcome doing something wrong, and have a wonderful feeling of satisfaction
b) when you feel guilt over doing something very wrong
c) when you feel a very deep longing, and you sometimes don't even know why
d) when you suddenly feel that your life is not going in the right direction, and that you must change
e) when you first wake up in the morning and you have a very strong feeling about yourself (good or bad) based on what you have or have not accomplished or become recently
f) when you feel embarrassed about being exposed at doing things below your level
g) when you feel a strong fear or intuition about losing or harming something precious to you
h) when you feel a powerful drive or craving to attain a spiritual state of being such as wisdom, happiness, will-power, holiness, etc.
i) when you feel all tingly inside when you exchange an expression of love with a beloved one, or anyone for that matter
j) when you are in a situation of 'do or die,' and you feel an overpowering need to survive
k) when you feel a need to perpetuate your unique teachings, insights and other spiritual contributions, to people now in your lifetime, and to others who will receive them after you pass on
l) when you feel a strong desire to extend eternally and infinitely the most powerful of your spiritual experiences and accomplishments
Experiences of the Enlightened Ones (notes from Rav Kook's writings)
a) the inner Soul drive to know yourself and to react properly to your inner summons
b) the inner Soul drive to become so clear and enlightened, that you know that a similar awakening of the masses is sure to follow
c) the inner drive to purify and intensify all your intentions, until you see that most of your intentions manifest in reality
d) the inner awakening and knowledge that the true experience of enlightenment is not something that you anticipate experiencing in the future, but rather, something you are constantly immersed in now
e) the inner awareness that your unique essential self or Soul spark must be completely free to express itself with maximum originality and authenticity
f) the inner drive to liberate your unique ability to create without any interference
g) the inner wisdom to distinguish when to detach yourself from others, to strive for deeper enlightenment, and when to get involved with others, those who need you, though they be on a much lower spiritual level than you are
h) the inner drive to be in a constant state of amazement and celebration of the Divine wonder that emanates all the time
i) the inner consciousness of knowing that all there is, is in a state of continual becoming
j) the inner concern for the well-being of the whole Universe and everyone in it and everyone that you personally encounter
It's a powerful idea to consider what it feels like to experience the soul. Everybody is talking about the Soul, but we don't really stop to consider the feelings associated with it. This is my attempt to make these feelings real.