Posts tagged
Torah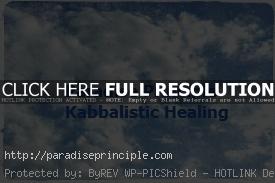 Continuing from last week's teaching, and last week did the first four, so this week I begin with #5.

5. Seeing With The Eyes of G-d Healing ["…..Lecha Hashem hagedula vhagevura/yours Hashem is the greatness and the might…."]

See the challenge that you or others are going through as being one that is only problematic when you see it from the narrow perspective of the present, but just Hashem represents past, present and future all at the same time [He Was , Is and Will be]—so too when seeing with the eyes of G-d….whatever problem you or others face, there's a past history to it that makes it understandable and even elicits empathy and compassion….and when you add to that the ultimate future rectification, healing and perfection that you or they are destined for—and you bring that into the here and now, then whatever problem exists now melts away…

This type of healing is based on the timelessness of the Divine. Timeless means that there is no beginning or end, no past, present or future, or that all of these exist at one time. The very name, the proper 4-letter Hebrew name of G-d is expanded to mean the past, present and future, "whatever He will be, He will be," past, present and future, in other words.
This perspective, which we're seeing in a G-dly way, and which is one of the most potent ways for us to connect with G-d. It is basically our key to drawing down what is called "The Hidden Light" or the Ohr Ganuz, which is expanded seeing, meaning our words, and our vision from one end to another, such as one end of our life to the other, from one end of Torah to the other and from one end of history to the other, etc.

That hidden light is the past, present and future as well, and seeing with the eyes of G-d in this way is what all of humanity will eventually step into. And the most potent aspect of the healing comes when we're able to project and to radiate into the mind of the person we're seeing in this way, that they are headed towards perfection, towards empowerment.
They are on a road of constant improvement, even with its twists and turns, but for a person to know that no matter how many left turns and bumps in the road there may be, the journey is cumulative. They are building their life in this way.

This is the most healing message a person can hear, connecting them with their future but also with their past as well. Their past has all been a preparation for where they are now.
When you frame a person's life in that way you give them incredible courage and encouragement to keep on doing what they're doing and not to feel afraid because G-d is leading them in the way they need to go.

That's Garden of Eden perception and encouragement as well.

6. HELPLESS LIBERATION HEALING ["….Hoshiainu V'nivasheia/save us and we will be saved…."]

Express to Hashem all of the efforts that you have made to overcome a certain problem….keep going until you find that you've done everything you could and the problem is still there….at this point , experience your helplessness and in a very emotional way, scream out to Hashem, 'I can't do it anymore, Hashem—please do it for me'….follow up your session by processing how you feel now [usually realizing and giving over to Hashem your helplessness is a very healing and liberating feeling] and how this exercise affects your life Providentially [I've found that prayers are answered doing this, more than any other practice] as well is the effect it has on you long term [I've found that even the most insensitive and cold people become soft-hearted and loving doing this consistently over a period of time]…

For over a year and a half I had three on-going groups, probably at least ten years ago, of "helpless liberation healers," sometimes called, "helpless emotional screamers," among other names, and we all used this tool.

We elaborated in an emotional way, to G-d, that we are helpless. And the emotion is there because it's the emotion that kicks it up to a whole different level. When you're talking emotion you're talking from your heart, and when you're talking from your heart you're talking about what you're really here for, what you really feel.

You can bypass the rationalizations and justifications, the repressions and inner protective mechanisms that block us from truly feeling what's going on inside us. So that's why it needs to be emotional.

And when we got to that place of helplessness we knew there was no more therapeutic healing, releasing, heart-rendering-melting place. The feeling of "I'm helpless and I'm giving it to G-d who is going to help me…" getting to that place of helplessness is the source of this healing.

First of all, healing is flow. And allowing your helplessness to consciously come to the surface of your awareness is re-instating flow that's been repressed, because of your helplessness.

Admitting your helplessness, submitting yourself and saying, "I can't do it, G-d, please do it for me," is the way to be released. The message you're sending to G-d by saying and really meaning this in an emotional way is the essence of what prayer is all about, the essence of what G-d is all about.

Why do we pray? We pray to find out where we are, to say, "G-d, please do this for me," but when we get to this essential prayer place of asking for help, like we would ask a friend, that is bringing G-d into our lives in perhaps the most potent way possible.

When we do that we find our prayers being answered, we find our trust level goes 'way up, we see miracles happening in our lives, we see our hearts opening up, and we are more sensitive and responsive to others who are in need of help, as well as ourselves. And like everything else in spirituality, we see that it perpetrates more of the same.

7. LOWER SOUL INTEGRATION HEALING ["…..Bkhol levavecha/with all of your hearts….."]

Connect with that part of yourself that you normally tend to repress —the 'shadow' part—the part that tends to sabotage your efforts, the more that you try to repress it—the part of you that is usually looking to be 'done' with responsibilities and to have fun [and a host of other questionable traits—not including those of the yaitzer hara\ the evil inclination driving you to go against Hashem—that's not part of this approach] …..rather than continuing to repress it, integrate it…do this in any one of several ways—make a deal with it—win win—you give it it's free reign as long as it does you no damage, or you replace it's fallen traits from being destructive, to being helpful and empowering…..notice how the more that you positively integrate this lower part of yourself, the more energized and peaceful do you feel……

We all have many non-flattering parts of ourselves, and we repress them. These parts of ourselves that are repressed can come back to haunt us and sabotage us, at times and in places where they are not flattering. They rear their ugly heads and make us think and feel and say and do things that are NOT what we want to do.

As long as we hide and repress these parts, that's exactly what will happen to us. The healing here is to liberate the non-flattering parts of ourselves by first identifying them, by admitting that there's an ugly, dark, shadowy part of me that wants to be lazy, that wants to have fun at the wrong times, that wants to be a kid, that wants to do things that are not necessarily against G-d's will for us, but definitely things we need to take care of.

That's what we're here for in this life, to take care of unfinished business. These parts are the expression of unfinished business from previous incarnations and whatever other sources, but we need to take care of them.

The best way to deal with an unflattering partner, which these parts are, is to talk it out, to make a deal, and make a win-win. It's a negotiation, such as, "I will give you your expression of laziness if you will allow me my sense of accomplishment." "I will give you your expression of interest in having fun if you will allow me my sense of being responsible." Make it clear. Bring it out.

When we do that we not only liberate our lower parts but our entire self. When we do this we serve G-d, as our Sages say, "with all of our hearts." We use our higher parts and our lower parts, and we are a complete person in that sense.

8. PERFECT AS IS HEALING ["…Ain ra yoreid min haShamayim/Evil doesn't come from G-d"]

Repeat the phrase, 'Perfect as is' every 15 to 20 seconds repeatedly…..Allow your mind to wrap itself around all the imperfections and difficulties in your life….Sweeten all of these thoughts by accepting that they are personally sent to you from ABOVE by Hashem [and therefore have no intrinsic negativity] at this particular time , place and manner—because Hashem feels that it's the best possible thing for you…..trust that Hashem has guided you and helped you overcome similar challenges in the past—so too now…..
This is the ultimate tool for transcendent living, for equanimity, for having a life which is going to allow you to embrace everything that happens to you and to have peace of mind.

Perfect as is means, when you say it every 15 seconds or so, feels as though everything in my own life, no matter how unflattering, is exactly what Hashem is sending to me. It's exactly what the doctor ordered.

Even if I made a bad decision, with all the circuitry that's been lit up here and all the decision-making processes and factors, and what happens in our day-to-day processing of living, we are saying, "this is exactly what is designated for me from Above."
I accept that it's perfect as is, it's what I need to go through right now. Then I embrace life, I jump out of bed in the morning and have compassion upon every other person in the world who is flawed, like myself.

I am able to embrace the flaws and my little, tiny baby-step accomplishments. This is the key to transcendence. It's the key to being able to say that whatever comes along it's my life, as is. Of course I'm improving and G-d is helping me improve, but I am going to face the music of everything that is going on in my life as G-d – sent. When you see everything as G-d – sent then you are sweetening it ad infinitum.