Posts tagged
TRANSCENDENCE MEDITATIONS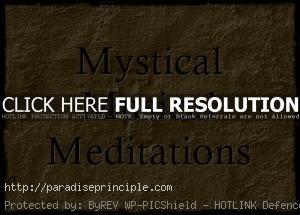 This week's MMM hearkens back to some of my earlier work. I call it My Legacy, and it's about leaving a spiritual will of sorts, a collection of my most important life lessons. I'm going to present a few subtopics for you now, starting with my Rebbes, Masters and Teachers. This is about the essential points I got from them and that I want to leave to posterity.
First is the Kotsk Rebbe, and what I learned from him is truth; speaking truth, intending truth, feeling truth and acting with truth, and the power of doing those things.
Next is the Slonimer Rebbe, and his Sefer Netivot Shalom. What I learned and still learn from him is connection to G-d, devekut, and the foundations of Chasidut, including finding your calling in life.
Next is the Baal Shem Tov, and what I learned from him is connecting to G-d in all aspects of life, 24/7.
Next is Rab Yitzchak Bracha, and what I learned from him is how to be inside of Torah, 24/7. It's the cure-all for everything, meaning never to leave Torah and to live inside that world to reap the benefits of living above nature.
Next is Rav Schmuel Darzi, and what I learned from him is how to be a spiritual warrior, in every sense of the word.
Next is a person who is still alive and well, and that's Rav Yehuda Scheinfeld, and what I learned from him is how to be an individual in a world of followers. I learned to do my own thing in a holy kind of way.
The next is also a person who is still alive and well, and that's Rabbi Aryeh Nivin, and what I learned from him is how to amass from all that I learn and gather and create a huge database of knowledge to draw from my entire life. Another central lesson I learned from him is to live a life of Paradise by "paradising" my life all the time.   And yet another lesson I learned from him is how to connect with my Ratzon, connect with my will, and to live life according to it. In conjunction with this lesson is the idea of Pnim d'Pnim, to live according to my essence.
Next is the Saba of Nevordik, and what I learned from him is how to make changes by being radical, or what I call, "radical change living."
And the final one is also a person, a friend of mine who is alive and well, and what I learned from him involves looking into a Kabbalistic or Chassidic book and finding the practical, life application from what's presented in an abstract way.
Those are my mentors, and that's one category of my legacy. Here's another list now, and this one is in the category of G-d connection. My legacies in this category will be:
Paradising my life.
Wanting what is, as opposed to what isn't.
Saying Thank You.
Let go, let G-d.
Seeing life with the eyes of G-d, including past, present and future, all at the same time.
Being guided by G-d, through an analysis of the highlights of my life.
Seeing other humans as puppets or messengers of G-d in my life.
When I can't do it, I need to give it over to G-d.
The experience of praying and studying at midnight, and the G-d connection there.
Trusting that G-d will always come through.
Choosing to have radical acceptance.
I should mention that MMM, my Mystical Musical Meditations, fit into all these subcategories, but especially in another area, what I call the Transcendent or Transcendings area of life.
I endeavor to live each week entirely inside of one theme, and to draw as much energy as possible from that theme.
I also endeavor to live consciousness, meaning seeing and experiencing life with a certain outlook, 24/7, any particular week.
I also endeavor to live outside the system of professionals, such as doctors, bankers, etc. The point is to first see what I can do on my own, with G-d of course, before going to other people and trusting them, which isn't always such a good idea.
I also endeavor to live in an "above-nature" way. That's one of my Transcending tools, too.
I also endeavor to say YES to life at all times, and also the flipside of that, which is saying NO to the NOs. To those who say NO, I say NO to their NOs.
MMM also fits into the following subcategories in the area of Healing. MMM is always about healing.
I am a person who endeavors to affect other people in the world, microcosmically and macrocosmically, even though I don't have a direct connection with them. And even without a direct connection with them, I have an intention for the healing of people in other places, at other times.
I endeavor to be G-d's messenger to heal the world, by bringing healing into life applications, meditations, teachings and tools.
I endeavor to be a healer who can convey the idea that we, the people who trust G-d, are invincible. And, as a result, we can create resolutions that are invincible.
I endeavor to be a healer by purging, a form of Transcendental Meditation, which helps us to get all the stuff out, one way or another, and then going to work.
I endeavor to follow in the footsteps of my namesake, Yitzchak, which means, "he will laugh," and help people break the chains holding them back, no matter what their situation may be.
MMM also fits into the following subcategories of Torah and Education. MMM is a unique type of Torah teaching.
I endeavor to dive into a Torah concept and immerse myself in it, instead of merely touching it and having a left-brain, intellectual analysis of it.
I endeavor to share innovative, new ways of approaching learning.
I endeavor to be a Torah person, inside of it, immersed in it, to the point that Torah will dissolve any obstacle that may be in my way.
I endeavor to see Torah in life, 24/7, and knowing that Torah is in exile, redeeming it and bringing it back to its pristine home.
I endeavor to bring Torah into tools and into life applications.
I endeavor to know what I know, by constantly reviewing it and by teaching from that place of power.
I endeavor to first use my head, and then look at what the Torah commentaries say.
I endeavor to go deep into any Torah concept, first learning it and then plummeting to the depths of it.
MMM also fits into the following subcategories of Self-Actualizing.
I endeavor to be a cafeteria-type person who can learn from everybody in my life, everyone I connect with and everything I connect with. Life is full of millions of teachers to teach me.
I endeavor to be my own target audience, instead of looking for certain demographics. I play to myself and teach to myself before I'm prepared to affect others in the right way.
I endeavor to live in a place of Allness, not losing a drop and making a collection of everything I do, then using and analyzing that.
I endeavor to put myself on effortless, automatic functioning by having a To-Do list and then letting it go.
I endeavor to have a spider chart, which means using my associative mind for an idea, and then bringing in all possible associated ideas.
I endeavor to find, in a social setting, that the people outside of me are also inside of me.
Those are some of my legacies.