Parsha Tetsaveh – Purim and Extraordinary Consciousness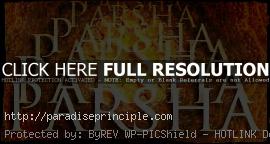 I'll share a few ideas about Purim and then a few ideas about Parsha Tetsaveh, and I see a common denominator between them, which is finding extraordinary consciousness inside ourselves.  It may sound familiar, even repetitious of the previous weeks' posts, but I can't help seeing it in parsha after parsha.
Purim is a very Holy, above-nature day, when we shift the way we see reality. You might say, we see that the root of nature is super-nature, or the super-natural. That's what Purim is about, in general. It's a day when we are able to overcome the deepest, most antagonistic, Amalek forces in our lives. Those are the forces shouting at us that we are not worthy, and everything is happenstance, causing doubts about ourselves and our connections to G-d. We are able to overcome all of that.
It's a day when we walk into the mystery, the Ayin, the Nothingness, and we come out in a sort of alchemy. We transform into a whole new type of human being. Purim is a day we come to understand opposites, the diametric opposites of despairing, dark reality and the most beautiful, breath-taking salvation we can experience. We begin to understand it not only in the Purim story, but in our lives.
It's a day when we can reach out our hands and we will be given whatever we desire, in terms of prayer and charity, for example. We have to hold back on this day and realize that G-d is running the whole show anyway.
Those are a few ideas Purim represents for us. We see that a week before Purim is the day that Moshe Rabeinu was born, and it's also the day he passed away. Moshe represents so much for us; he represents the pinnacle of being human, of human prophesy, leadership and humility. He represents the whole Torah, so it's a good time right now to study his words, the best we can.
Now let's jump into Parsha Tetsaveh, which is also all about extraordinary consciousness. One thing we notice is the Eternal Light, which burned all the time in the Temple. (Remember, everything in the Temple is us. G-d said, "Make me a Tabernacle, and I will dwell inside of you." He didn't say, "inside of it," but he said, "inside of you." That means the Israelites themselves.)
Everything Torah teaches about the Tabernacle is really about what we have inside of us, so we have an eternal light within us, and we need to find that light because it never goes out.  No matter what situations we face and how hopeless they may seem, there is the place of light inside, and the eternal light never goes out.
There's a place inside us that's called Urim v' Tumim. The light on the breastplate of the High Priest, which was made of the letters representing the tribes, and which was used to answer the most important questions regarding the Israelite nation, lit up supernaturally to answer to provide answers. And we, too, can get answers to any questions we ask if we have the faith and trust inside us.
Parsha Tetsaveh also talks about the concept of holy clothes, meaning the clothing worn by the priests and the High Priest. We can think about this clothing as hiding and revealing something, both at the same time. In a deeper, mystical sense, clothes (levush in Hebrew) is the term which describes the way holy souls are housed inside of us. Our souls help draw down what we need to know and they help guide us on our way. That's another extraordinary consciousness inside of us.
There is much more available. We have access to eternity, to clarity and to the highest possible light.
Take all this and have a wonderful Purim!
This entry was posted by yitzchak on March 5, 2017 at 4:08 PM, and is filed under Weekly Parsha. Follow any responses to this post through RSS 2.0. Both comments and pings are currently closed.
Comments are closed.