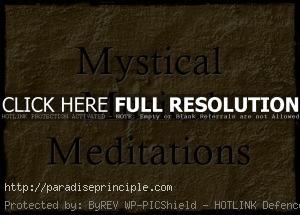 This is the week before Rosh Hashanah, so I want to focus on the topics for my second Rosh Hashanah MMM. And the main concept is this – We have to seek out G-d when he's closest. This time of year, this week and then the week after Rosh Hashanah, until Yom Kippur, G-d is closest to us.
It happens that way for a reason. To quote the terminology of Rosh Hashana, we are crowning the King. This means, first, we are connected to the King. And, it means we make Hashem the central part of our life.
These are the things I want to do in this week's MMM. Following are two parts giving suggestions how we can do them. The first part is imagining what it would be like to involve G-d in everything we do. And the second part is making Hashem the center of our lives, admitting "I can't do it, but Hashem can do it for me," to receive Divine guidance and to engage the world in a G-dly way.
This is what I want to build on for the MMM this week, and next week as well.
WHAT IT WOULD BE LIKE TO INVOLVE G-D AS MUCH AS POSSIBLE IN OUR LIVES
Just imagine what it would be like to involve G-d as much as possible in all that we do.
1. We would be more happy, high, peaceful, loving, empowered, present, purposeful, self-expressed, etc.
2. We would be fulfilling the purpose of the creation -to reveal G-d where He's normally hidden.
3. We would be in a state of Mitzvah most all the time.
[such as the constant Mitzvahs of loving G-d, believing in G-d, etc.
4. We would be constantly attaching ourselves to well-being [see the classic work, 'Derech Hashem' –the R. Kaplan translated edition section 1/2/3]
5. We would be living as a primal Y-E-H-U-D-I [JEW], which is to be the emanators, testifiers and teachers of G-dliness.
6. We would be connecting our will with G-d's Will.
7. We would be open up a healing flow in all aspects of our lives.
8. We would be able to relate to people in a G-dly way.
9. We would be able to surround ourselves with miracles.
10. We would probably help make this world a much better place to live in.
HASHEM AS THE CENTER/EVERYTHING OF MY LIFE
"I CAN'T, HASHEM, BUT YOU CAN, THROUGH ME"
1. Co-creating
2. Seeing that all He does is for the best [Equanimity]
3. Divine assisted All of me and beyond-ing
4. Throw to Hashem your burden
5. Primal scream–personal redemption recipe
6. Helpless crying dvaikut
7. Divine based healing [darkness busting and more]
8. Bitachon–He'll come through for me like He always has
B. RECEIVING DIVINE GUIDANCE
9. 'Puppet show' Divine guidance 24/7
10. Resonating the 'Holy sparks' in everything
11. Picking up on the Divine truth of everything
12. Receiving Divine solutions and strategies
13. Hearing His Voice
14. Letting Him in meditations
15. Drawing in his Love for me and mine for Him
16. Knowing Hashem meditations
C. ENGAGING THE WORLD IN A G-DLY WAY
17. Revealing Hashem in His hiding
18. Sync my will with His and be an extension of His tikun Olam-ing
19. Applying His Will [ie..Torah] in secular life
20. Seeing [and relating to] people with the eyes of Hashem
21. Primal Judaism-Divinely relating to all aspects of observance
22. Primal Emunah–seeing Hashem everywhere [ Baash't-based]
23. Merkava-fusing all my sefirotic traits with Divine traits
24. Emulating Hashem
25. Mitzvah-izing mundane reality
26. Prayer